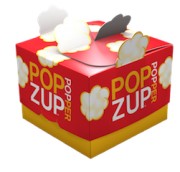 Innovative microwave popcorn company, Popzup Inc, has moved into the Washington Street Mills in Dover NH to expand capabilities and accommodate dramatic growth in sales.
Dover, NH, March 3, 2016 (Newswire.com) - Popzup Popper is a safe, chemical free, totally new way to microwave air pop popcorn is naturally delicious. It's sought after by microwave popcorn lovers looking for a convenient, healthy alternative to microwave popcorn bags, and plastic or silicon microwave poppers.
Heightened awareness of health risks associated with microwave popcorn bags after the FDA announced a ban on chemicals used to line popcorn bags has caused a huge demand for the Popzup Popper. This month, the FDA banned chemicals used to line microwave popcorn bags. Not included in the ban are chemicals that add butter smell and flavor or the chemically altered, solidified oil that is superheated by a plasticized or metalized susceptor imbedded into the microwave popcorn bag. 
Washington Street Mills is a good fit with like-minded businesses that share our passion about supporting earth friendly options and a healthy lifestyle.  There is a tremendous energy there among all the business that helps feed creativity at the Mills.
Popzup Popper offers complete transparency by working directly with and knowing each supplier. "We hired the paper mill to custom make our virgin fiber paperboard free of all recycled content, bleach, and coatings that are blended into all readily available papers. Our popcorn kernels come from a 4th generation family owed and sustainability operated popcorn farm and company. Every supplier we work with contributes to making the Popzup Popper a truly great microwave popcorn product.," says Co-Owner, Marty Lapham.
"We love the convenience of microwave popcorn and the health benefits of adding our own flavoring. So, we rethought how it's made and started from scratch to create a healthy, totally new way to microwave popcorn - The Popzup Popper. The response has been absolutely overwhelming, everyday we hear from customers who thank us for the Popzup Popper. " says Lapham.
Share: